Thank you to all of our sponsors who have played a vital part in allowing Pregnancy Care Center (PCC) to offer hope, help and life to thousands of families facing unplanned pregnancy over the last two decades!
Donations received at the event will be used to fund the programs and services that are saving lives and strengthening families!
We are so grateful to these businesses, organizations, and couples who are boldly supporting the life-affirming work of Pregnancy Care Center.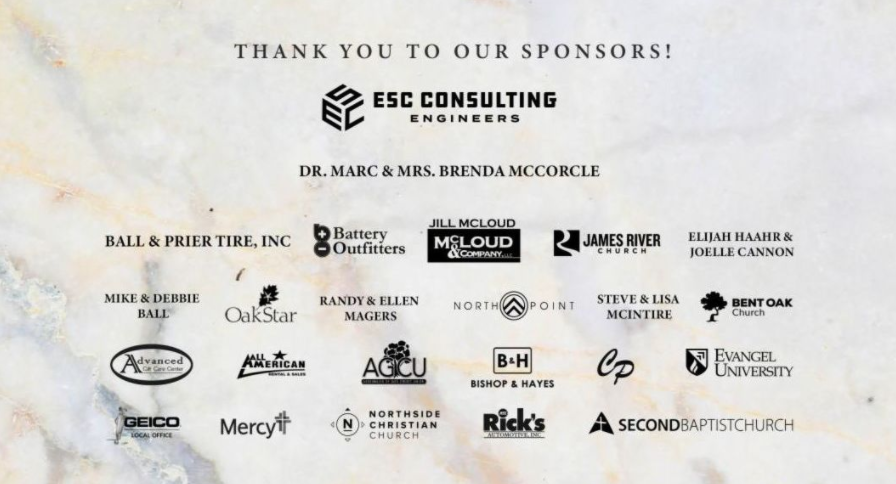 Premier Sponsors
ESC Consulting Engineers
Dr. Marc and Brenda McCorcle

Gold Sponsors
Ball and Prier Tire
Battery Outfitters
Elijah Haahr and Joelle Cannon
James River Church
McLoud and Company

Silver Sponsors
Bent Oak Church
OakStar Bank
Mike and Debbie Ball
North Point Church
Randy and Ellen Magers
Steve and Lisa McIntire
Advocate Sponsors
Advanced Car Care Center
Assemblies of God Credit Union
All American Rental and Sales
Bishop and Hayes
Corporate Properties
Evangel University
Geico Local Office
Mercy Hospital
Northside Christian Church
Rick's Automotive
Second Baptist Church
Supporting Sponsors
Hazel's Flowers
Oasis Hotel and Convention Center
Media and Photography
Harp Creative
Rudolph Video