On Father's Day, Immaculate Conception (IC) Parish and the Knights of Columbus hosted a drive-thru fundraiser benefitting Pregnancy Care Center (PCC). They provided a donation in the amount of $3,200 to support the mission of saving lives and strengthening families.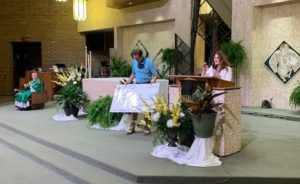 In the weeks leading up to Father's Day, IC held a baby bottle drive, encouraging parishioners to put coins and cash in plastic baby bottles. Then on Father's Day after mass, those who participated brought their donations to the church, where they could also drive through and purchase cinnamon rolls, prepared by Knights Charles Ortiz and Paul Sullivan, with those proceeds also designated for PCC.
We are so grateful for IC's creativity and faithful support in furthering PCC's mission to save lives and strengthen families!
---
This photo features Richard Haack, a member of the Knights of Columbus, and Lisa McIntire.